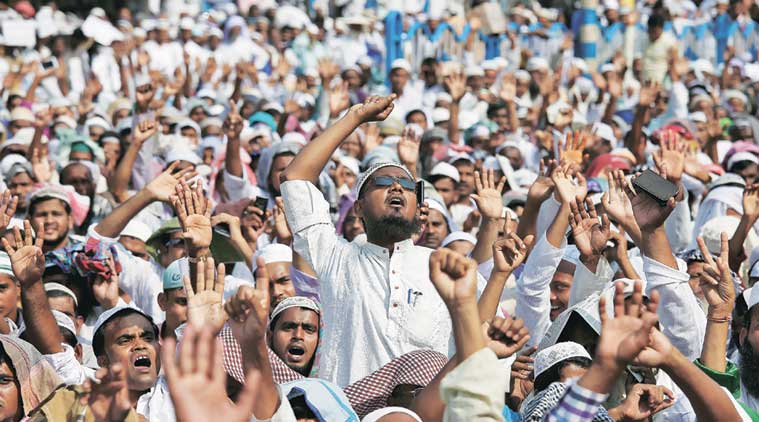 The leaderless Muslim community under the control of Mullahs has already been politically marginalised during the last ten years and further caste division, as is evident glaringly, is threatening the community to fragment irreparably, writes M Hasan
Lucknow, May 26: Having successfully dented Dalit and backward vote base of the Opposition party and bringing them under larger "Hindutav agenda", the Bharatiya Janata Party (BJP) has now been making hectic efforts to divide Muslim vote between "Pasmanda (Persian for backward) and non-Pasmanda" in the country and especially in northern states. The mantra of the political game is quite clear: unite Hindu vote above castes and creed and divide Muslims on caste basis for electoral gains in 2024 Lok Sabha elections. 
With the well-knit and united Muslim community so far voting against the BJP, as is again demonstrated in recently concluded Karnataka assembly elections, where the Congress bagging around 86 percent Muslim vote, the saffron brigade's "Pasmanda card" seems to have worked in recently Local Bodies elections in UP. Similarly, in last UP assembly around eight percent Muslims had voted for the BJP. The "Pasmanda talk" started in BJP after Prime Minister Narendra Modi at a rally in Hyderabad laid stress on reaching out to "deprived and downtrodden" sections of all communities.   
During last UP assembly election the Deputy Chief Minister Keshav Prasad Maurya had talked about "mobilising Muslim OBCs" known as "Pasmanda Muslims" who are covered under Mandal commission reservation policy. With welfare policies and freebies Yogi government has already reached out to this poor section, in which there is massive illiteracy, resulting into electoral support.
Now there is general feeling in the Muslim community that under the garb of "sab ka saath sab ka vikas" move is to disintegrate the community vote on caste basis and make it further politically irrelevant. The leaderless Muslim community under the control of Mullahs has already been politically marginalised during the last ten years and further caste division, as is evident glaringly, is threatening the community to fragment irreparably.  
Way back in the late 1990s former JD (U) MP and founder of Pasmanda Muslim Mahaz Ali Anwar Ansari first conceptualised the term "Pasmanda" in his book "Masawat in ki Jung and later turned it into a political weapon in Bihar. However, his approach was secular. Pasmanda movement had started in Bihar in 1930. It may be mentioned that Muslims are mainly divided into three castes. At the top of pyramid are Ashrafs (literally the nobles who trace their ancestry to clans in Arab world), Ajlaf (the commoners who converted from Hindu low castes) and Arzals (means despicable who are said to be Dalit converts). In short, Ashrafs are the Brahmin equivalent, Ajlafs are the Vaisya equivalent and Shudras, and Arzals (Lalbegis, Doms) are the Atishudras or Dalit equivalents in Indian Muslims.
As indicated by Modi in his Hyderabad rally last year, the BJP has targeted the last two-Ajlaf and Arzal- who form majority in Muslim block, to make dent into Opposition's Muslim base.  In view of prevailing backwardness, the Mandal commission had declared over 80 Muslim groups among total 400 castes to be backward. The commission had thus categorised half of the Muslim population as backward. According to data Muslim constituted 8.4% of total OBC population and had thus recommended 6%of the total 27% quota for identified Muslim OBCs. Those specified as backward included groups like weavers, oil crushers, carpenters, Dhobis and others and Mandal commission had made provisions for reservation for these groups.
Pasmanda group has however long been trying for the inclusion of Dalit Muslims (Arzal) into scheduled caste category so than they could enjoy fruits of 21 per cent reservation of SC/ST. In 1950 through a presidential order the then Congress government had restricted the entry on "Arzal" into this category, allowing only Hindu, Sikh and Budhdhist castes to be covered under SC reservation. However most of the political parties (BJP and non-BJP groups) are averse to the demand of inclusion of Arzal into SC category as there is a feeling it would only dilute quota for Hindus, including Sikhs and Buddhists.  
However, for former IAS officer Anis Ansari, who has been relentlessly carrying on struggle for revocation of the 1950 Presidential order, said the concept of "Pasmanda" is deep ingrained in the history. He says that 14th century Arabic text "Fatwa-i-Jahandari (code of Governance) of Maulana Ziauddin Barni is akin to Hindus "Manusmriti, which has legitimized castes in Muslim community. Mr Ansari said Barni had pointed that there were three categories of Muslims since the Azal (beginning"—Ashraf, Ajlaf and Arzal. Mr Ansari said that classification in Muslim community existed for the many centuries in India. But those opposing division in the community are of the view that there are only "Biradaris" but no caste system. But Mr Ansari said that those who say that caste system doesn't exist in Muslims, are either unaware or lying.
Now in view of major Opposition Parties- Congress, Samajwadi Party, BSP, JD (U), RJD and others playing "soft Hindutav" and hardly interested in taking up Muslim issues openly, as they are afraid of alienating Hindu votes, the BJP seems to have veered round to the view dent into this vote through  "Pasmanda politics" could prove double-edged weapon. Success would help in widening electoral base while division could fragment the community's electoral strength. Thus taking note of social divide, the BJP has been trying to make it political. Since the upper caste and educated Muslims are the most vocal and articulate opponents of the BJP, it has focused on the Pasmanda. In UP, the BSP by fielding large numbers of Muslims in successive assembly/Lok Sabha elections has already successfully experimented sharp division in the community votes.    
  (M Hasan is former Chief of Bureau, Hindustan Times, Lucknow)    
Share via