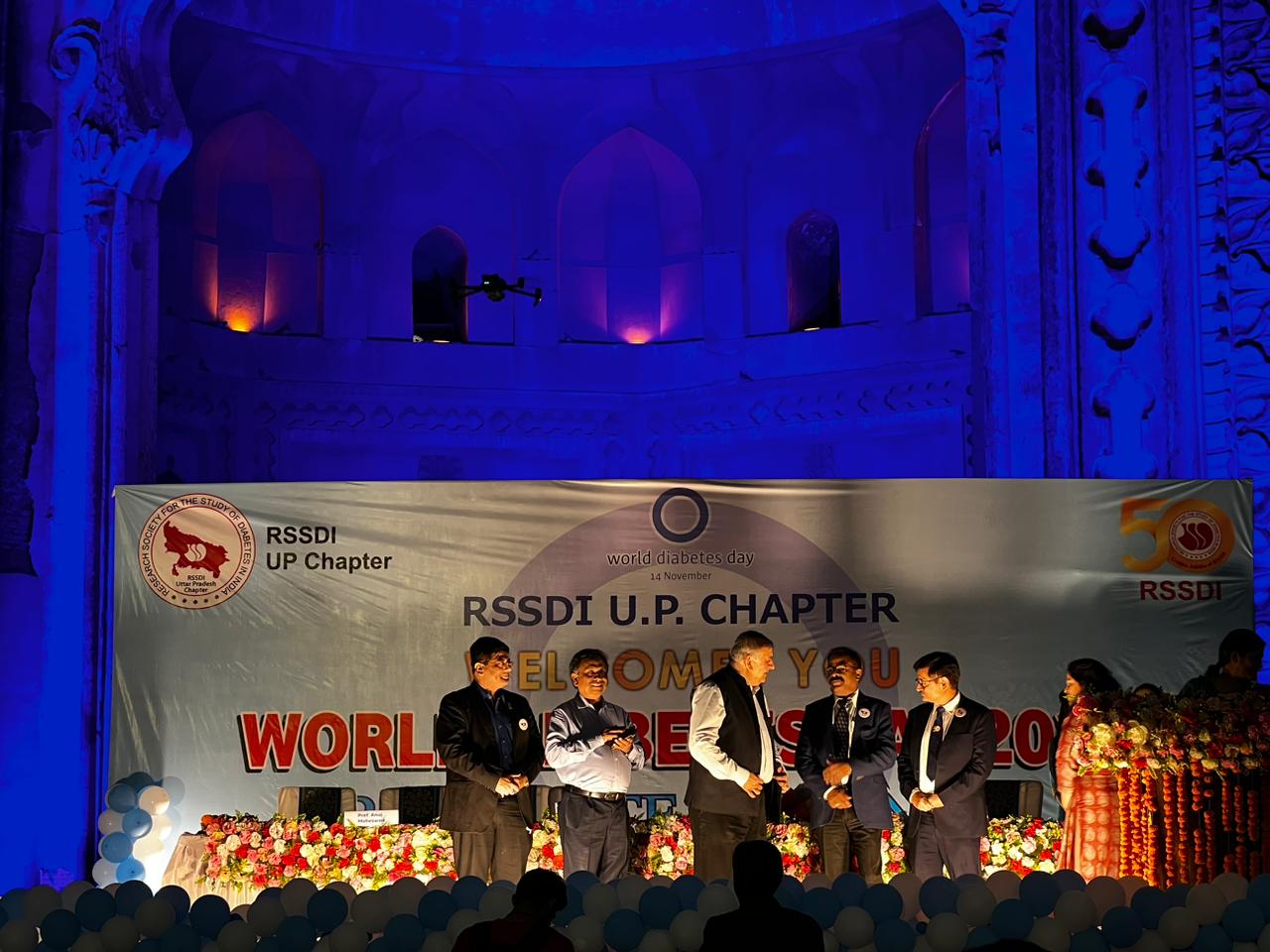 Lucknow, November 14: In view of rising menace of diabetes the International Diabetes Federation (IDF) has launched "Education to protect tomorrow- 2022" programme to intensify global drive to apprise the people about the problem and methods to control it.
Talking to newsmen on International Diabetes Day on November 14 Chairman Research society for study of diabetes in India (UP chapter) Pro Anuj Maheshwari said that diabetes did not mean just "sugar control". There was need for paying more attention to kidneys and cardiac complications as these were main reasons for death in diabetic patients. He said it had been observed that diabetes patients themselves stop taking blood pressure and cholesterol medicines which was harmful.  Prof Maheshwari it was also harmful to decrease or increase medicines and Hba1C test, which indicates three months record of sugar in body was best way to monitor blood sugar.
Prof Maheshwari said Research society for study of Diabetes in India (UP chapter) has been continuously making efforts in this direction and has organised "Diabetes a dialogue" programme in around 100 places all over the state. He said main programme has been organised in Lucknow. The Deputy Chief Minister and UP Health Minister Shri Brijesh Pathak participated in a programme " Ayee Chalen aur diabetes par charch karen" on November 14. Pathak said "we should all take out time to exercise daily. He said bad food choices was also major reason for diabetes.
The past secretary and the treasurer of the society Prof Narsingh said diabetic could lead a normal happy life by proper lifestyle, early dinner and early to bed in night. He said food should be full of salad and vegetables, soup, curd and daal. He also laid on exercise for at least 30 minutes.
Prof Maheshwari said diabetes continued to rise at an alarming rate – with 1 in 9 people expected to be affected by 2030. He said the rising prevalence had been putting additional pressure on healthcare systems. Healthcare professionals thus needed to make the most of the limited time and resources they have to provide the best possible advice and care to the millions of people affected by diabetes, Prof Maheswari said added that people living with the condition required to understand it and keep their diabetes knowledge up to date in order to manage it and avoid complications.
The Secretary of the society and well-known diabetes expert Dr AK Tewari said that Rumi Gate will be illuminated with blue light to make the City's commitment towards fight against diabetes. He said International Diabetes association has been organising this programme of lighting heritage buildings for last several years. The Lucknow Mayor Samuykta Bhatia will inaugurate the programme Prof Sanjeev Mishra, vice chancellor Atal Behari Vajpayee Medical University will be the special guest. Later programme has been organised for doctors which would be chaired by Chancellor KGMU Lt General V K Puri.
Dr Tewari said education could help in controlling the rise of diabetes. Laying stress on the government action in this connection Dr Tewari emphasised diabetes awareness among populations and improvement in the training of healthcare professionals to provide the best possible care for people living with diabetes. "We need to provide diabetes education today to protect tomorrow", said Dr Tewari, who is also director of Jai Clinic and Diabetes Care Centre.
Referring to decrease in age group being affected by type 2 diabetes Dr Tewari said even youth were being affected on a large scale and there was urgent need to launch "school health programme" in this matter. He said junk food, cold drinks, long hour computer working and TV watching, depression were some of the factors affecting the younger generation. He said there was need to educate the younger generation about healthy lifestyle as "today carelessness could prove costly in future". Dr Tewari said " we could achieve the target of " education to protect tomorrow" theme of IDF by paying more and more attention to younger generation. He said social media, newspapers, electronic channels and other technology could play significant role for communication and eliminate prevailing misgivings about diabetes in the society.
Share via