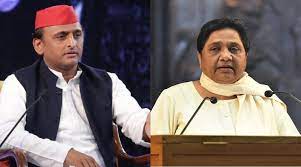 M Hasan
Lucknow: Even as the Bahujan Samaj Party (BSP) is headed for split, the party chief Mayawati today blasted the Samajwadi Party president Akhilesh Yadav for hobnobbing with the rebel BSP MLAs, who held a meeting with him on Tuesday. Mayawati said that SP had been trying to create confusion over meeting with these MLAs who have already been suspended from the BSP after their cross voting in Rajya Sabha elections in October 2020.
In a series of tweets on Wednesday Mayawati castigated the SP for castiest policy which is full of hatred. She said the SP by its claim to split the BSP had been trying to deceive the people of the state. She said these MLAs had already been suspended from the BSP for the anti-party activities during the Rajya Sabha poll in which they had supported an industrialist against the official nominee. She said the SP instead of inducting these rebel BSP MLAs had been keeping them on tenterhook as there was resentment even in SP against Yadav's plan and large number of SP leaders were ready to join the BSP. She said the whole "meeting exercise of BSP MLAs" was a drama with an eye on forthcoming zila panchayat elections. Accusing the SP of anti-Dalit, Mayawati said the people would teach a lesson to it in the elections. Mayawati claimed that the BSP would emerge victorious in 2022 assembly election.
It may be mentioned that half a dozen rebel BSP MLAs had a closed-door meeting with Akhilesh Yadav here on Tuesday to chalk out their action plan. Later Aslam Rainee, leader of BSP breakaway group consisting of Mohd Mujtaba Siddique, Hakim Lal Bind, Dr Hargoving Bhargava, Sushma Patel and few others, claimed that they would soon float a new political outfit led by sacked BSP leader Lalji Verma, But Verma has denied any such move. Rainee said the group would also meet the assembly speaker Hirdayanarain Dixit to demand the recognition of a separate group in the house. However, the rebel group is still short of requisite two-thirds numbers to break the BSP which has 18 MLAs including jailed mafiosi Mukhtar Ansari. These suspended MLAs continue to be treated as BSP members in the House. Rainee claimed support of 11 members to rebel group. He said another sacked MLA Ramachal Rajbhar would also join the new party. Meanwhile Ramachal Rajbhar had a meeting with Bhagidari andolan morcha chief and former minister Om Prakash Rajbhar who has been trying to bring smaller parties on a platform.
Even as there is no clarity in the rebel BSP group some of the members including Anil Singh are in touch with the BJP also. Thus, as the 2022 elections are fast approaching these MLAs have been exploring options in various parties to join the fray. Rainee however said the group "will contest 2022 election in alliance with the SP. If we defect from BSP to join SP right now, we will lose the membership of the assembly under the anti-defection law".
Akhilesh to launch poll campaign
Lucknow: With the 2022 assembly elections fast approaching the Samajwadi Party president Akhilesh Yadav has decided to launch the election campaign from July. Party sources said here today that detailed district-wise tour programme of Yadav was being chalked out. He would be covering entire UP from July onward.
Share via