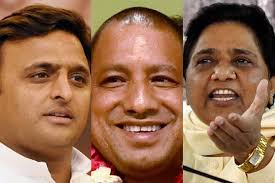 M Hasan
Lucknow: Firmly ruling out the possibility of electoral alliance with Congress and Bahujan Samaj Party (BSP), the Samajwadi Party president, who had a closed-door meeting with nine MLAs of the BSP, said that the party would have alliance with small parties. He said talks for electoral alliance with smaller parties-Rashtriya Lok Dal, Mahan Dal and Pragatshil Samajwadi Party of Shivpal Yadav were being held.
Yadav had a meeting with rebel BSP MLAs Aslam Rainee, Aslam Ali, Mujtaba Siddiquie, Hakim Lal Bind, Hargovind Bhargava, Sushma Patel, Vandana Singh, Anil Singh and Ramvir Upadhyay to chalk out further action plan as BSP chief Mayawati had already sacked these MLAs after they had resorted to cross voting in favour SP during previous Rajya Sabha election. Aslam Rainee said of the total 18 BSP MLAs 11 had broken away from Mayawati and they would soon meet the Speaker Hirdayanarain Dixit to demand separate recognition in the state assembly.
According to information Akhilesh Yadav discussed the plan for the induction of these MLAs into SP and tickets for assembly election in 2022. Later Yadav told media that his experience of entering into alliance with BSP in 2019 and Congress in 2017 was not fruitful so there was no question of joining hands with these parties now. While pointing out about tie-up with smaller parties Yadav said he had already held discussions with his uncle Shivpal Yadav for seat sharing with his party. He said the SP would not field candidate from Jaswantnagar in Etawah district from where Shival Yadav was elected to assembly. Yadav said some more seats would also be identified for his uncle's party. While the SP would be entering into tie-up with RLD in mainly in western UP, Mahan Dal is likely to get seats in Roohelkhand and Purvanchal.
Move are also afoot in SP to bring more leaders from BSP which had earlier this month sacked senior leaders Lalji Verma and Ram Achal Rajbhar. Both leaders who are mobilising their cadre in Ambedkar Nagar region, have so not open their cards. However, it is reliably learnt that SP leaders have established contact with them. Both leaders have been accused of anti-party activities during the recent panchayat election in Ambedkar Nagar. It is learnt that Verma wanted his wife Shobhavati Verma to be made BSP candidate for zila panchayat chairperson in Ambedkar Nagar. The party however wanted some other leader. The tussle in the BSP had also come up over the demand of Verma for the ticket of his daughter Chaya Verma in next assembly election. Chaya Verma had unsuccessfully contested assembly byelection from Jalalpur on BSP ticket.
Before 2017 assembly election Swami Prasad Maurya and Dara Singh Chauhan had joined the BJP and later both became ministers in Yogi government. Nasimuddin Siddique, lone Muslim face of BSP left the party to join the Congress. After 2017 election there has been large desertion from the BSP mainly to Samajwadi Party. Apart from the rebel MLAs, who met Yadav today other prominent BSP leaders who already joined the SP were Inderjit Saroj, Jasmir Ansari, Qaisar Jahan, Tribhuwan Dutt, RK Chaudhuri, Asif Khan alia Babbu and several other leaders.
Share via