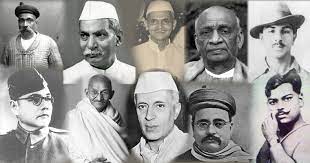 Indian politicians are adept at using names of national icons only to camouflage their misdeeds and cover their lack of integrity and honesty, writes former IAS officer V.S.Pandey
A subversive culture of usurping national icons by political parties has now taken a serious turn. Earlier  Shivaji ,  Sardar Patel , Dr. Ambedkar and Dr Ram Manohar Lohia were appropriated. Now  it is shaheed Bhagat Singh's turn. The recent controversy of putting up pictures of Dr. Ambedkar and Bhagat Singh in all Punjab Government offices has its genesis in the overall  barren political landscape of our country. Political party leaders having nothing to show by way of their own character, deeds or societal contributions  take recourse to these icons who have attained their status with  gargantuan sacrifices, unstinting efforts and exhibiting exemplary courage. There is nothing wrong in following the footsteps of  those who attained immortality through their actions and sacrifices but using , just  cosmetically ,  the names of these iconic figures to achieve narrow political ends is a most unfortunate development of  present day politics.
A look at the conduct of those  who proclaim themselves to be the true followers of Shivaji will certainly put them to shame. Sadar Patel's legacy is limited to the installing of the highest statue on the planet but his iron deeds have not been emulated. Similar was the conduct of Ambedkarites who instead of serving the cause of the downtrodden and helping the most deprived class to attain decent living standards relentlessly absorbed  themselves in accumulating ill gotten wealth. Similar has been the conduct of Lohiaites . The torchbearers of Lohia's socialist ideology,  soon after riding to power ,started aligning  brazenly with the rich and colluding with them  rather than supporting and alleviating the misery of the proletariat struggling to eke out an existence. The socialists got busy building Lohia Park and other such parks ,Lohia Dwars, Jai Prakash Narayan convention centre, costing thousands of crores- basically to line their own pockets rather than following  and implementing the legacy of these austere  principled leaders. All this lawless freebooting was done in the garb of  socialism.
Currently we have the  great revolutionary Bhagat Singh's new born Bhakt in Kejariwal ,who is striving to usurp his legacy. We need to recall what Bhagat Singh stood for. In his article titiled  'Communal Riots and their treatment he wrote -"Class-consciousness is needed to prevent people from fighting with each other. It should be clearly explained to the poor, working people and peasants that your real enemies are the capitalists, so you should stay away from their handiwork and do nothing at their saying."  He had repeatedly cautioned people against aligning with the capitalists . What is the character and conduct of those who have recently started swearing in his name? Recently Kejariwal's party chose five nominees as party candidates for Rajya Sabha from Punjab-which  included  three  billionaire industrialists. Earlier too, when he chose three Rajya Sabha nominees from Delhi ,two were billionaires. Kejriwal's  favoring  rich magnates  to man important positions  exemplifies the  hypocritical chasm between purported ideology and reality of governance which  is the  norm amongst the political class in our country.
Our national icons were born more than a century ago and they spent their lives indefatigably toiling to achieve that stature. We  all must follow the selfless footsteps of  those who created a lasting impact on  people's hearts. There is so much to learn from these greats and get inspired . But ultimately action is the  key  and the touchstone of the ideas that one proclaims. Here every political party fails abysmally. Ultimately , no matter which icon one follows , it is the ideals of truth, honesty, love for one's country and compassion for deprived sections of our society  are the defining  traits  which all the icons have lived and upheld in their lives. Unfortunately, the present crop of our politicians are nefariously adept at using the names of these icons only to camouflage their misdeeds and cover  their lack of integrity and honesty.
What Kejariwal has done by rewarding billionaires and ignoring the aam aadmi  , is  exactly  what all the  main stream parties have been doing for years but on a  smaller scale. He is the new breed neta so he had to surpass others in this field also . The tragic part of this narrative  is the maligning of the glorious names of our national icons for narrow political ends. They conveniently ignore the fatal consequences- when the younger generation watches these venal , inept and self centred politicians expropriating  in the name of these icons , they   not only get more cynical and disillusioned   but the nation also will never attain its promised potential.
The irony of  our country is that for nearly a  hundred years , we as a nation have failed to prop up  politicians of integrity, courage and selfless spirit to whom people could look up to. How long we will keep looking back to our ancestors for guidance? Is it not a tragic failure of our great civilisation that we have got totally mired in petty politics rooted in divisive caste and religious considerations -with corrupt politicians pouring in crores  of black money to win elections year after year? Have we the people  lost the will and courage to turn the tide and make the vision of our national icons , a reality? Certainly not. The effort to cleanse our political system has to become our top most priority. Only then can we  pay  real homage to those who sacrificed everything for the cause of our nation. Chanting their names , putting up their photographs and setting up their statues at the cost of  the public exchequer solely to garner votes is dishonoring their legacy. Let us commemorate that rich legacy honorably.
(Vijay Shankar Pandey is former secretary Government of India)
Share via