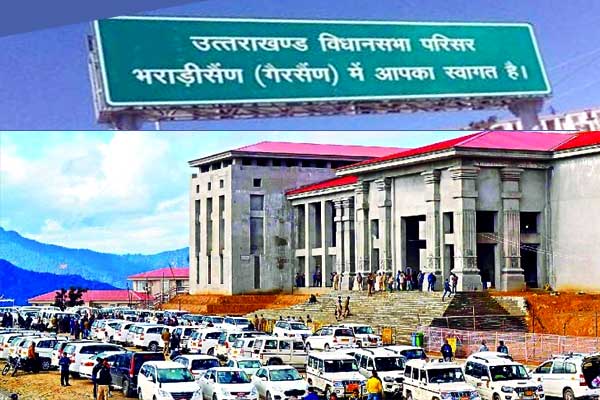 The very idea of two Capitol establishments for Uttarakhand is not only senseless, but, an invitation to administrative and economic disaster. A summer capital for the resource starved state is nothing but capital punishment.
Dr. H.C.Pande
The youngest state of the nation is learning fast. It has come up with a concrete plan of development; a concrete plan, literally. A summer capital is to be built in Gairsain with a proposed outlay of Rs.28,000 Crores. The need to construct buildings to shield the political bosses and the serving mandarins in Dehradun, from the heat of summer, is, apparently, the crying need of the state struggling to create better education and health services, better management of forest and mineral resources, better transport and communication facilities, and a viable economy with increased agricultural and industrial production.
That the state capital would be at Gairsain had been agreed to, by all political parties associated with the Uttarakhand/Uttaranchal movement, but, that it would be an additional capital, akin to a stepney tyre, to be used for summer jaunts only, was no where in the picture. Under the label of 'temporary capital', several hundred crores of the tax-payer's money, has already been spent in Dehradun to create the Capitol complex. New buildings have come up, and, old ones renovated for the convenience of the legislators and the administrators and are fully functional. At this stage, to plan a summer capital is to cleverly sidestep the political promise, and, in the process convert the temporary into the permanent capital. Political chicanery apart, this drama at the cost of the public exchequer borders on criminality.
To locate the state capital in the backward area of the backward state was a bold idea. Only when one has to face the lack of amenities, normally taken for granted, such as assured electrical power, and, water supply, convenient transportation and communication facilities, proper education and health services etc., does one sense the priorities, understand the all pervading problems of backwardness, and, the need to solve them on urgent and serious basis. Necessity being the mother of invention, once, the powers-that-be, feel the pinch themselves, they apply their mind, with their feet on the ground, and invent some way to cut through the maze of the red tape holding back the development plans/projects, even if only in their own self-interest. The 'let them eat cakes' mind-set has done enough damage already and needs to be corrected post-haste.
However, this chance has been lost in Uttarakhand with the leaders and the administrators cozily enthroned in Dehradun, blissfully untouched by daily grind of the average Uttarakhandi, and, unmindful of his aspirations. Having committed one blunder the leader-administrator combo is now bent on compounding the folly by this political lollipop of a summer capital. Can this on rushing calamity be converted into an opportunity? The answer is yes!
With the funds available for the capital projects, one can plan for developing the region around Gairsain as a, largely, economically,and, environmentally sustainable zone, and, the city as a green city. This could be a showcase, a pace-setter, for the development of backward areas. Gairsain as of now, is a small unplanned town needing, if one ignores the monstrosity of the Assembly building, practically everything. In a sense here is a clean slate to work on . Here is a fine opportunity to utilize every technique/technology available to create an environment friendly, resource conserving, and functional township, as well as, assist the local populace to develop small farms/plantations, small industries and businesses in the surrounding area, to meet some needs of the town folk. Creation of wealth locally, no matter how small or large, is the foundation of development and a step towards sustainability. Here is an opportunity to create a habitat utilizing, but not exploiting, nature's bounties, and, prove that small is not only beautiful, but, possible as well. Adoption of solar architecture, use of green energy(solar/wind/hydro/bio),application of recycling technologies(waste-water/kitchen waste/municipal waste/rubble)are examples. So are enterprises such as, bakeries and knitting centers.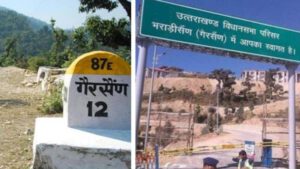 Eating Bareilly baked bread in Binsar and wearing Ludhiana label Loi in Lamgada makes no sense. Application of developmental economics, and, not classical economics, is the case in point.
Any capital city is largely the permanent residence of hundreds of government employees,pumping in money into the local economy in exchange for the required facilities and services such as schools, hospitals, restaurants, assorted retail stores, pharmacies, transport services, household services and so on. The salaries come straight from the state exchequer ,unaffected by drought, flood or recession. Hence,one can depend on a steady and growing input for the local economy and can network the area around to provide some of the goods and services.
Basically,regional socio-economic equations have to be worked out within the existing,regional,boundary conditions at first,and,only afterwards,one can seek solutions in national or global context.Equations valid over one domain,do not yield real solutions,with boundary conditions applicable in another domain Vocal for local,slogan has deep implications.For any development to be meaningful, regional talent,regional materials,and,regional needs can not be overlooked.
Based on the latest models of economic development,the hi-fi solutions,utilizing advanced technologies,are fine,but,at this stage of development of the region,may not be appropriate.Appropriate technology is out of favor these days but this is how development has taken place throughout human history;'juggad' has always played a useful role.Of course,one does not start from square one,if the place is already at square two.Often enough available local technology provides a holistic solution of the problem than than the advanced technology depending on outside inputs.
The very idea of two Capitol establishments for Uttarakhand is not only senseless, but, an invitation to administrative and economic disaster. A summer capital for the resource starved state is nothing but capital punishment.
(Dr H C Pande is Vice Chancellor Emeritus,BITS, Mesra)
Share via