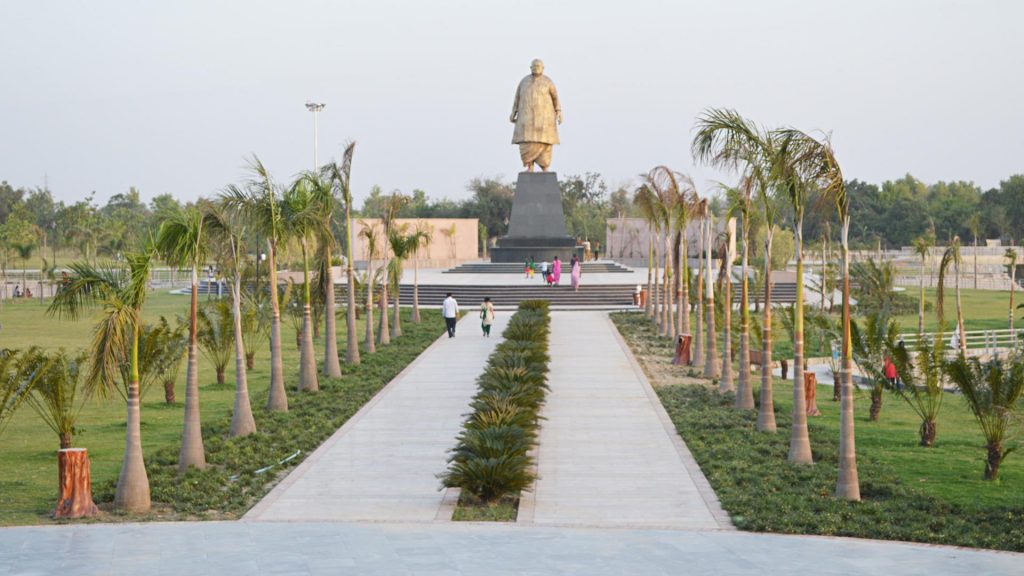 The Samajwadi Party talks about concept of socialism but whenever it came to power in Uttar Pradesh it was far away from real concept of this ideology and its style of functioning indicated rich elite approach.
Dr. H.C.Pandey
The preamble of India's constitution states that we are, apart from everything else, a socialist republic, however, over space & time, socialism has gone through many versions which have nothing in common except perhaps the spelling. Since in India we believe in unity in diversity, socialism has an all embracing meaning. After the Avadi session of the Congress party in 1955, when Jawaharlal Nehru declared that, socialist pattern of society is the goal of the government, the New York Times corespondent in New Delhi, while interviewing, the doyen of Indian businessmen, G.D. Birla, asked him as to what he thought of socialism. G.D. replied 'Socialism? Why, we are all socialists here.'
This may appear confusing, but then, Rig Veda exclaims truth is one but the sages call it by various names. For detailed study we shall take up the version of this ideology as it exists in a state governed, several times, by the blue-blooded Indian socialists of the Samajwadi Party.
Since successive governments have always understood, law and order to mean in-laws and disorder, the heights reached in the matters of nepotism and maladministration need not be discussed, being common factors. A look at the concrete achievements, or rather reinforced concrete achievements, as, primarily these are constructions, would suffice for the study.
Like the Gateway of India commemorating the arrival of the British, the SP has constructed the Lohia Dwar to usher in socialism in Uttar Pradesh costing Rs.6.5 Crores. Whether socialism entered the state through this gate or went out of it is difficult to tell in the absence of witnesses, but the money did enter well known pockets.
As an alternative to Bierhalle in Berlin, where early(circa 1800), socialists would gather, SP has constructed the Jayaprakash Narayan International Convention Center complete with a helipad on top and an all weather swimming pool inside, at the cost of Rs.650 Crores. The five star facilities created for holding socialist discourses to improve minus five star conditions in the state is based on the Marie Antoinette formula 'give them cakes' and, sure enough, socialism has met the fate of the fair queen on the guillotine.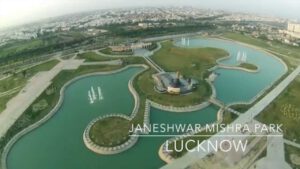 SP has developed Janeshwar Mishra Park, possibly as a substitute for Hyde Park, the proselytizing arena of the early British socialists, at a cost of Rs.450 Crores, with provision for Venice style canals for Gondola rides, and ,for a breath-less view of the state Capitol, Lucknow Eye, London style. This seems to be a bit of overindulgence in dishing out 'nouveau socialisme' as the proletariat has been taken for a ride often enough and the pollution levels in Lucknow keeps every one breathless, Eye or no Eye.
SP, notwithstanding Dr.Lohia's strong anti cricket views, has constructed a massive stadium for holding international level cricket tournaments at a cost of Rs.500 Crores, a sum large enough to provide over 10,000 playgrounds in the rural areas, where, even Kabbadi grounds,hardly exist. The SP symbol, the humble bicycle, has been given its due by building cycle-tracks in the Capitol at a cost of Rs.40 Crores, where cycles can hardly be seen, though this amount could meet the cost of repair of 1000 km of single lane rural roads connecting the villages.
Clearly in the SP socialism, there is no room for the proletariat. The life-style of its members is upper class, with the declared wealth of many, exceeding that of many a medium industrialist. Their mansions reflect crude money power, and, not Marxist thought. People moving in luxury cars build bicycle tracks, only to recycle the money, from the public treasury, into their coffers and not for the use of the humble cyclist.
James Orwell had stated years ago 'The worst advertisement for socialism is its adherents'.Karl Marx be hanged, for Mulayam is a jolly good fellow. (The views expressed by writer is personal)
(Dr H C Pande is Vice Chancellor Emeritus, BITS, Mesra)
Share via