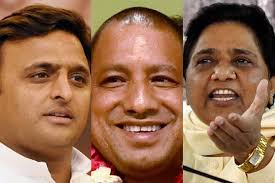 M Hasan
Lucknow, January 11: With forthcoming panchayat and 2022 UP assembly elections almost all political parties have resorted to sewing up winnable caste combination in the state. The issue is no different with ruling BJP, Samajwadi Party, BSP and Congress. "Who-is-going-where" is in fact catchphrase in political discussions as the state prepares for the next poll battle. During the last three elections- 2014, 2017 and 2019 the BJP has come up with strong caste combination which is as of now seems to be unbreakable under leadership of Prime Minister Narendra Modi and chief Minister Yogi Adityanath.
The formation of "Bhagidari Sankalp Morch" mainly consisting of AIMIM, Suheldeo Bharatiya Samaj Party (SBSP) of Om Prakash Rajbhar and Samajwadi (Lohia) party of Shivpal Yadav, is in fact amalgamation of smaller caste parties in the state. Thus, with almost every political party thriving on caste politics the issue has assumed menacing dimension in the state over the decades.
While caste has been cornerstone of victory formula of every party, the situation took a turn for worse in early 80s when the BSP under Kanshiram started holding caste conferences to politically mobilize various communities. Now with an eye on 2022 elections BSP headed by Mayawati has started holding "Brahmin conferences" under the leadership of SC Mishra. It had paid dividend in 2007 when BSP stormed to power dislodging SP's Mulayam Singh Yadav.
In the absence of any authentic data a rough estimate of caste combination is backward classes 52% (as per Mandal report), Dalits 18%, Brahmins and Thakur 5% each, Muslims 17% and remaining 3%. In successive parliamentary and assembly elections after implementation of Mandal commission report in 1990, caste aspect had emerged a dominant factor in electoral combination. Significantly it is not only caste but "sub-castes" have also demanded their pound of flesh. The Bhagidari Morcha of Rajbhar has been trying to bring smaller castes under this umbrella.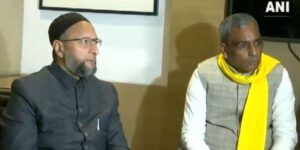 Significantly, more than governance for all, whichever party is in power looks at its core caste constituency before going ahead in policy making. In the absence of developmental manifesto for all, the situation seems to be irreversible in the state.
Historically the origin of caste politics goes back to Congress. With Brahmin community dominating political scene, even Chandrjit Yadav within Congress and rival forces outside started talking about mobilization of various castes. Even Dr Ram Manohar Lohia's stress on backward politics was presumably aimed at dismantling "Brahminism" of Congress. Till the arrival of Mandal Commission the leaders were careful in talking about caste politics but Mandal's report implementation opened floodgate of casteism. UP leaders took it further sub-castes.
Even as BSP has octopus-like grip over nearly 18 % Dalit votes, the main Opposition-Samajwadi Party has again been making determined efforts quietly to maintain Muslim-Yadav (MY) formula. The Congress, which ruled the state mainly through Dalit-Muslim-Brahmin combination for a long time, has been trying to present a façade of "casteless" approach to retrieve lost group. But practically the party has been hoping to get back its old winning formula. Caste problem has now gripped the 17% Muslim community also. Gone are Mandir-Masjid days when Muslim community was a cohesive force in UP politics. Till last decade even caste, though it existed in Muslim community, was unheard in political domain. But now the factor has come with smaller forces in the community trying to rake it up.
Share via