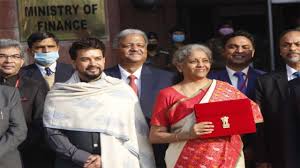 An impractical budget which doestnot provide any road map for welfare and overall development of country
V.S.Pandey
Yesterday the Union Finance Minister Nirmala Sitharaman presented the annual budget for the coming year. Soon the Sensex jumped more than 2300 points. Interestingly, only eighteen million Indians out of total 1.4 billion have anything to do with the stock markets, rest of the Indians do not bother about the bulls or bears. They remain engaged in their mundane occupations. The budget neither imposed the anticipated Covid cess nor it imposed any other new tax. The Finance Minister did announce privatization of two Public Sector Banks which may prove to be as much an ill-advised reform as are the three farm bills. Another announcement – allowing the Life Insurance Corporation to enter the stock market must have been to the liking of markets. These two announcements along with the increase in infra budget must have buoyed the markets. But what about the common Indian? What is there in the budget to change his life for the better? Except for some increase in the budget allocation to sectors like Education, Health and Agriculture there is nothing much to cheer about for the common man. Even in sectors where government is planning to increase the expenditure, there is no road map given to create any buzz.
Every government at the center gets to present its budget every year but at least during the last four decades no government has presented before the nation a road map to reform the tottering basic, secondary and higher education system. No government could come up with a plan to provide high quality health care system to our billion plus population. Instead, over these decades, we have succeeded in earning the dubious distinction of having the most privatized health care system in the world when we have more than 40 crore people, nearly one and half times the population of United States of America, living below the poverty line. As usual this budget gives no clue how it is going to confront these burning issues. The country needs to set up top quality super specialty hospitals in every district as most of our districts have more population than many countries in the world , so the acute need.
Similarly, to revitalize the agriculture sector, the government needed to not only step up its existing institutions and machinery manifold but also ensure provision of adequate funds for them to function efficiently. Our seed supply, soil testing, extension service, irrigation, credit etc. systems are poor. Agriculture universities and related research institutions are starved of funds for years and they are lagging behind in coming up with the desired output to ensure that our farmers remain ahead of others. These issues need the immediate attention of the government and allocation of adequate provision of funds, the budget does not truly address the needs of the farm sector.
The covid pandemic further exposed the gigantic magnitude of the problem of unemployment. There does not seem to be any proactive policy direction in the budget to increase employment during the short and long term. Government is only banking on the revival of economy to take care of this issue which by its own admission is not going to happen soon as the GDP is projected to shrink by more than 9% in the current year. It was expected that this budget will layout a plan of action to improve the employment scenario, but that was not to be. The only silver lining seems to be the exemption granted to pensioners above the age of seventy-five, from filing income tax returns. In this case the numbers benefitting from this are otherwise also miniscule, with chances of an average Indian surviving beyond 75 years are too low as per the past record.
The one thing where the government, pushed in the corner due to circumstances created due to the pandemic, showed courage, was in ignoring the provisions of FRBM Act. Now the government should understand that to garner resources you do not need to sell your family gold and silver , disinvest your "NAVRATNAS" at throw away prices, or beg others. The growth of China has one important story to tell. They printed nearly thirty trillion dollars worth of their currency Yuan over a period of nearly fifteen years, to not only create world class infrastructure in every sector but propelled their country to become one of the biggest economies in the world and they are threatening to overtake USA .
Every country needs to look at its strengths and weaknesses and devise its growth strategy accordingly. Any formula devised by the World Bank, International Monetary Fund or others will at best keep you where you are. Our strengths are many including our man power, our natural resources etc. We have every thing but still we have, for several decades, failed to chalk out a clear road map for five or ten years to first solve many basic problems like poor quality education , health services, civic amenities, drinking water, sanitation, upgradation of villages, and unemployment and above all ,the all pervasive culture of corruption.
Henry David Thoreau in his famous essay wrote " Let every man make known what kind of government would command his respect, and that will be one step towards obtaining it. Can there not be a government in which majorities do not virtually decide right and wrong but conscience? In which majorities decide only those questions to which the rule of expediency is applicable?" This Budget like earlier once, is a victim of this expediency.
(Vijay Shankar Pandey is former Secretary to Government of India)
Share via